Last Updated on 07 JULY 2019
Whistler Grand Project Information
Location

105, 107 & 109 West Coast Vale

(D05)
Site Area
Approximately 19,591Sqm / 210,883 Sqft
Units / Storeys
716 + 2 Shops / 36-Storey high
Carpark Capacity
Not less than 718 (2 Basement)
Expected T.O.P.
31 October 2021
Vacant Possession
31 October 2022
Tenure
99 years from 7 May 2018
Developer
CDL Pegasus Pte. Ltd. (Subsidiary of City Developments Limied)
Whistler Grand Singapore
Location Map
@ West Coast Vale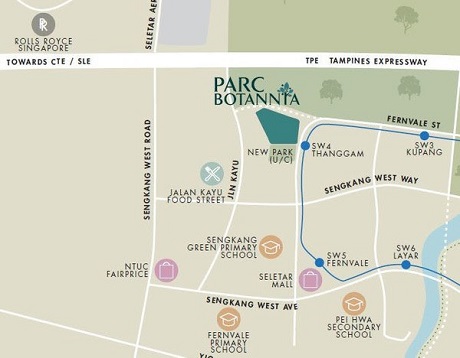 Near Future Pandan Reservoir MRT
Whistler Grand Price List
| | | |
| --- | --- | --- |
| Unit Type | Size | Price From |
| 1 Bedroom | 441-517 | $681,210 |
| 1 Bedroom+Study | 506-614 | $707,130 |
| 2 Bedroom | 603-700 | $808,380 |
| 2 Bedroom Premium+Study | 764-850 | $1,012,500 |
| 3 Bedroom | 958-1066 | $1,217,430 |
| 3 Bedroom Premium+Flexi | 1066-1173 | $1,393,200 |
| 3 Bedroom Dual Key | 990-1198 | $1,263,600 |
| 4 Bedroom | 1281-1464 | $1,587,600 |
| 4 Bedroom Dual Key | 1270-1378 | $1,589,220 |
| 5 Bedroom | 1442 | $1,810,350 |
| Penthouse(5 Bedroom+Flexi) | 2217-2422 | $3,321,000 |
Strong Take Up-rate
150 units Sold at Launch Day
---
Estimate Maintenance Fee
| | | |
| --- | --- | --- |
| Unit Type | Share Value | Estimated Maintenance Fee (Before GST) |
| 1 Bedroom | 115 | $250 |
| 1 Bedroom+Study | 115 | $250 |
| 2 Bedroom | 140 | $300 |
| 2 Bedroom Premium+Study | 140 | $300 |
| 3 Bedroom | 140 | $300 |
| 3 Bedroom Premium+Flexi | 140 | $300 |
| 3 Bedroom Dual Key | 140 | $300 |
| 4 Bedroom | 162 | $350 |
| 4 Bedroom Dual Key | 162 | $350 |
| 5 Bedroom | 162 | $350 |
| Penthouse(5 Bedroom+Flexi) | 187 | $400 |
We are Developer's Sale Team
No Commission Required
我们是开发商的销售团队
免佣金
Book an Appointment with us for Showflat Viewing
Cindy Ng @ 97738372
OR
Whistler Grand Photo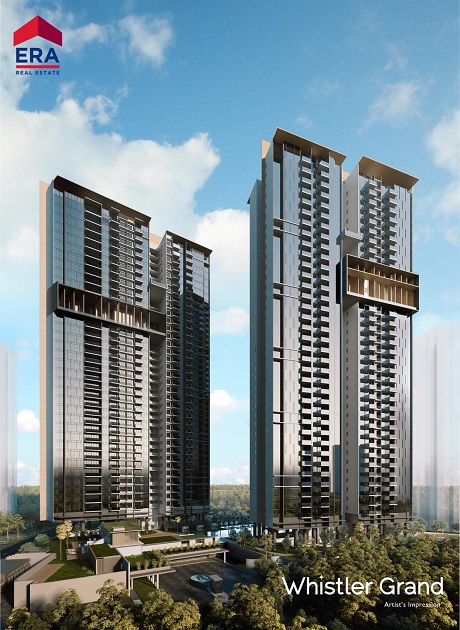 Review of Whistler Grand
Why Buy Whistler Grand?
Proximity to Educational Institution: within 1km to Nan Hua Primary, Qifa Primary, NUS etc.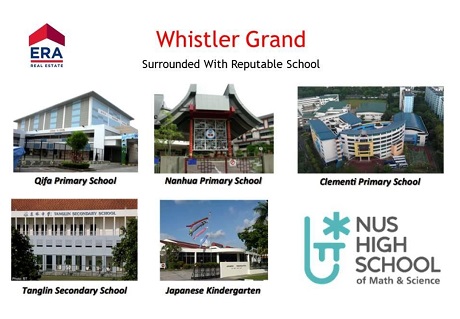 Conveniently situated between 2 MRT Stations, Jurong East MRT station and Clementi MRT station, owners will benefit from the future Jurong Region Line and Cross Island Line MRT stations
Proximity to Jurong Lake District, 2nd CBD of Singapore
New Tourism Development by 2026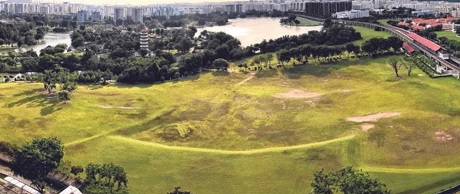 📍 Panoramic Views of the city, Pandan Reservior and Bukit Timah Hill
👍🏻One of the Lowest PSF in the WEST
👍🏻36-storey with Selection of 1 to 5 bedroom units, Dual Key Units and Penthouse
👍🏻 Over 60 facilities
👍🏻 majority small units which is in demand in this area
👍🏻buyers who missed out the last time have another opportunity.

---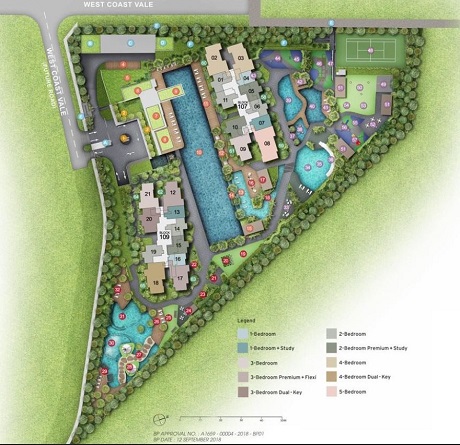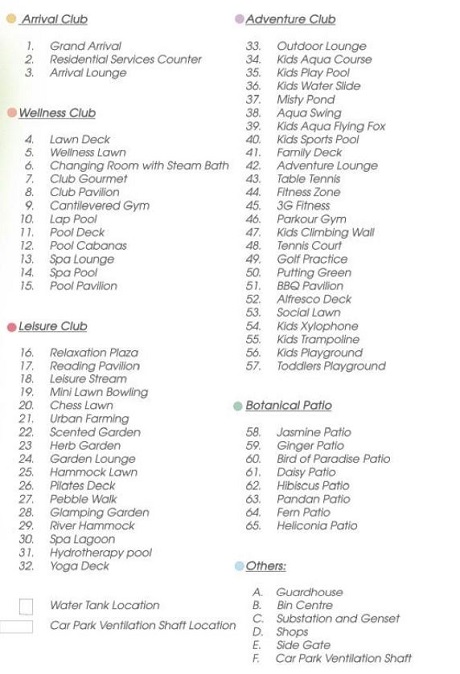 Whistler Grand Available Unit
| | | | | | | |
| --- | --- | --- | --- | --- | --- | --- |
| Blk | Units No. | Room | Type | Sqm | Sqft | Remarks |
| 107 | 17-01 | 2 BR | B1a | 57 | 614 | |
| 107 | 19-01 | 2 BR | B1a | 57 | 614 | Sold |
| 107 | 21-01 | 2 BR | B1a | 57 | 614 | |
| 107 | 22-01 | 2 BR | B1a | 57 | 614 | |
| 107 | 23-01 | 2 BR | B1a | 57 | 614 | |
| 107 | 27-01 | 2 BR | B1a | 57 | 614 | |
| 107 | 29-01 | 2 BR | B1a | 57 | 614 | |
| 107 | 30-01 | 2 BR | B1a | 57 | 614 | |
| 107 | 31-01 | 2 BR | B1a | 57 | 614 | |
| 107 | 32-01 | 2 BR | B1a | 57 | 614 | |
| 107 | 33-01 | 2 BR | B1a | 57 | 614 | |
| 107 | 34-01 | 2 BR | B1a | 57 | 614 | |
| 107 | 35-01 | 2 BR | B1a | 57 | 614 | |
| 107 | 27-02 | 4 BR | D1 | 119 | 1281 | Sold |
| 107 | 33-02 | 4 BR | D1 | 119 | 1281 | |
| 107 | 34-02 | 4 BR | D1 | 119 | 1281 | |
| 107 | 35-02 | 4 BR | D1 | 119 | 1281 | Sold |
| 107 | 02-03 | 4 BR | D1 | 119 | 1281 | |
| 107 | 04-03 | 4 BR | D1 | 119 | 1281 | |
| 107 | 05-03 | 4 BR | D1 | 119 | 1281 | |
| 107 | 06-03 | 4 BR | D1 | 119 | 1281 | |
| 107 | 10-03 | 4 BR | D1 | 119 | 1281 | |
| 107 | 11-03 | 4 BR | D1 | 119 | 1281 | |
| 107 | 13-03 | 4 BR | D1 | 119 | 1281 | |
| 107 | 14-03 | 4 BR | D1 | 119 | 1281 | |
| 107 | 15-03 | 4 BR | D1 | 119 | 1281 | |
| 107 | 16-03 | 4 BR | D1 | 119 | 1281 | |
| 107 | 17-03 | 4 BR | D1 | 119 | 1281 | |
| 107 | 18-03 | 4 BR | D1 | 119 | 1281 | |
| 107 | 19-03 | 4 BR | D1 | 119 | 1281 | |
| 107 | 20-03 | 4 BR | D1 | 119 | 1281 | |
| 107 | 21-03 | 4 BR | D1 | 119 | 1281 | |
| 107 | 22-03 | 4 BR | D1 | 119 | 1281 | |
| 107 | 23-03 | 4 BR | D1 | 119 | 1281 | |
| 107 | 24-03 | 4 BR | D1 | 119 | 1281 | |
| 107 | 25-03 | 4 BR | D1 | 119 | 1281 | |
| 107 | 26-03 | 4 BR | D1 | 119 | 1281 | |
| 107 | 27-03 | 4 BR | D1 | 119 | 1281 | |
| 107 | 28-03 | 4 BR | D1 | 119 | 1281 | |
| 107 | 30-03 | 4 BR | D1 | 119 | 1281 | |
| 107 | 31-03 | 4 BR | D1 | 119 | 1281 | |
| 107 | 32-03 | 4 BR | D1 | 119 | 1281 | |
| 107 | 33-03 | 4 BR | D1 | 119 | 1281 | |
| 107 | 34-03 | 4 BR | D1 | 119 | 1281 | |
| 107 | 35-03 | 4 BR | D1 | 119 | 1281 | |
| 107 | 36-03 | 5 BR + Flexi PH | PH1 | 206 | 2217 | |
| 107 | 17-04 | 1 BR | A1 | 41 | 441 | |
| 107 | 18-04 | 1 BR | A1 | 41 | 441 | |
| 107 | 19-04 | 1 BR | A1 | 41 | 441 | |
| 107 | 20-04 | 1 BR | A1 | 41 | 441 | |
| 107 | 21-04 | 1 BR | A1 | 41 | 441 | |
| 107 | 22-04 | 1 BR | A1 | 41 | 441 | |
| 107 | 23-04 | 1 BR | A1 | 41 | 441 | |
| 107 | 24-04 | 1 BR | A1 | 41 | 441 | |
| 107 | 25-04 | 1 BR | A1 | 41 | 441 | |
| 107 | 26-04 | 1 BR | A1 | 41 | 441 | |
| 107 | 27-04 | 1 BR | A1 | 41 | 441 | |
| 107 | 28-04 | 1 BR | A1 | 41 | 441 | |
| 107 | 29-04 | 1 BR | A1 | 41 | 441 | |
| 107 | 30-04 | 1 BR | A1 | 41 | 441 | |
| 107 | 31-04 | 1 BR | A1 | 41 | 441 | |
| 107 | 32-04 | 1 BR | A1 | 41 | 441 | |
| 107 | 33-04 | 1 BR | A1 | 41 | 441 | |
| 107 | 34-04 | 1 BR | A1 | 41 | 441 | |
| 107 | 35-04 | 1 BR | A1 | 41 | 441 | |
| 107 | 03-05 | 2 BR Prem+Study | B3P | 71 | 764 | |
| 107 | 04-05 | 2 BR Prem+Study | B3P | 71 | 764 | |
| 107 | 05-05 | 2 BR Prem+Study | B3P | 71 | 764 | |
| 107 | 07-05 | 2 BR Prem+Study | B3P | 71 | 764 | Sold |
| 107 | 10-05 | 2 BR Prem+Study | B3P | 71 | 764 | Sold |
| 107 | 11-05 | 2 BR Prem+Study | B3P | 71 | 764 | |
| 107 | 13-05 | 2 BR Prem+Study | B3P | 71 | 764 | |
| 107 | 14-05 | 2 BR Prem+Study | B3P | 71 | 764 | |
| 107 | 16-05 | 2 BR Prem+Study | B3P | 71 | 764 | |
| 107 | 17-05 | 2 BR Prem+Study | B3P | 71 | 764 | |
| 107 | 18-05 | 2 BR Prem+Study | B3P | 71 | 764 | |
| 107 | 19-05 | 2 BR Prem+Study | B3P | 71 | 764 | |
| 107 | 21-05 | 2 BR Prem+Study | B3P | 71 | 764 | |
| 107 | 22-05 | 2 BR Prem+Study | B3P | 71 | 764 | |
| 107 | 23-05 | 2 BR Prem+Study | B3P | 71 | 764 | |
| 107 | 24-05 | 2 BR Prem+Study | B3P | 71 | 764 | |
| 107 | 25-05 | 2 BR Prem+Study | B3P | 71 | 764 | |
| 107 | 26-05 | 2 BR Prem+Study | B3P | 71 | 764 | |
| 107 | 27-05 | 2 BR Prem+Study | B3P | 71 | 764 | |
| 107 | 28-05 | 2 BR Prem+Study | B3P | 71 | 764 | |
| 107 | 29-05 | 2 BR Prem+Study | B3P | 71 | 764 | |
| 107 | 30-05 | 2 BR Prem+Study | B3P | 71 | 764 | |
| 107 | 31-05 | 2 BR Prem+Study | B3P | 71 | 764 | |
| 107 | 32-05 | 2 BR Prem+Study | B3P | 71 | 764 | |
| 107 | 33-05 | 2 BR Prem+Study | B3P | 71 | 764 | |
| 107 | 34-05 | 2 BR Prem+Study | B3P | 71 | 764 | |
| 107 | 35-05 | 2 BR Prem+Study | B3P | 71 | 764 | |
| 107 | 36-05 | 2 BR Prem+Study | B3P(d) | 79 | 850 | |
| 107 | 03-06 | 2 BR | B1a | 57 | 614 | Sold |
| 107 | 14-06 | 2 BR | B1a | 57 | 614 | Sold |
| 107 | 16-06 | 2 BR | B1a | 57 | 614 | |
| 107 | 17-06 | 2 BR | B1a | 57 | 614 | |
| 107 | 18-06 | 2 BR | B1a | 57 | 614 | |
| 107 | 19-06 | 2 BR | B1a | 57 | 614 | |
| 107 | 20-06 | 2 BR | B1a | 57 | 614 | |
| 107 | 21-06 | 2 BR | B1a | 57 | 614 | |
| 107 | 22-06 | 2 BR | B1a | 57 | 614 | |
| 107 | 23-06 | 2 BR | B1a | 57 | 614 | |
| 107 | 24-06 | 2 BR | B1a | 57 | 614 | |
| 107 | 25-06 | 2 BR | B1a | 57 | 614 | |
| 107 | 26-06 | 2 BR | B1a | 57 | 614 | |
| 107 | 27-06 | 2 BR | B1a | 57 | 614 | |
| 107 | 28-06 | 2 BR | B1a | 57 | 614 | |
| 107 | 29-06 | 2 BR | B1a | 57 | 614 | |
| 107 | 30-06 | 2 BR | B1a | 57 | 614 | |
| 107 | 31-06 | 2 BR | B1a | 57 | 614 | |
| 107 | 32-06 | 2 BR | B1a | 57 | 614 | |
| 107 | 33-06 | 2 BR | B1a | 57 | 614 | |
| 107 | 34-06 | 2 BR | B1a | 57 | 614 | |
| 107 | 35-06 | 2 BR | B1a | 57 | 614 | |
| 107 | 36-06 | 2 BR | B1a(d) | 64 | 689 | |
| 107 | 09-07 | 1 BR + Study | A2S | 47 | 506 | Sold |
| 107 | 10-07 | 1 BR + Study | A2S | 47 | 506 | Sold |
| 107 | 11-07 | 1 BR + Study | A2S | 47 | 506 | |
| 107 | 12-07 | 1 BR + Study | A2S | 47 | 506 | |
| 107 | 13-07 | 1 BR + Study | A2S | 47 | 506 | |
| 107 | 15-07 | 1 BR + Study | A2S | 47 | 506 | |
| 107 | 16-07 | 1 BR + Study | A2S | 47 | 506 | |
| 107 | 17-07 | 1 BR + Study | A2S | 47 | 506 | |
| 107 | 18-07 | 1 BR + Study | A2S | 47 | 506 | |
| 107 | 19-07 | 1 BR + Study | A2S | 47 | 506 | |
| 107 | 20-07 | 1 BR + Study | A2S | 47 | 506 | |
| 107 | 21-07 | 1 BR + Study | A2S | 47 | 506 | |
| 107 | 22-07 | 1 BR + Study | A2S | 47 | 506 | |
| 107 | 23-07 | 1 BR + Study | A2S | 47 | 506 | |
| 107 | 24-07 | 1 BR + Study | A2S | 47 | 506 | |
| 107 | 25-07 | 1 BR + Study | A2S | 47 | 506 | |
| 107 | 26-07 | 1 BR + Study | A2S | 47 | 506 | |
| 107 | 27-07 | 1 BR + Study | A2S | 47 | 506 | |
| 107 | 28-07 | 1 BR + Study | A2S | 47 | 506 | |
| 107 | 29-07 | 1 BR + Study | A2S | 47 | 506 | |
| 107 | 30-07 | 1 BR + Study | A2S | 47 | 506 | |
| 107 | 31-07 | 1 BR + Study | A2S | 47 | 506 | |
| 107 | 32-07 | 1 BR + Study | A2S | 47 | 506 | |
| 107 | 33-07 | 1 BR + Study | A2S | 47 | 506 | |
| 107 | 34-07 | 1 BR + Study | A2S | 47 | 506 | |
| 107 | 35-07 | 1 BR + Study | A2S | 47 | 506 | |
| 107 | 36-08 | 5 BR + Flexi PH | PH2 | 225 | 2422 | |
| 107 | 02-08 | 5 BR | E1 | 134 | 1442 | |
| 107 | 03-08 | 5 BR | E1 | 134 | 1442 | |
| 107 | 05-08 | 5 BR | E1 | 134 | 1442 | |
| 107 | 06-08 | 5 BR | E1 | 134 | 1442 | |
| 107 | 07-08 | 5 BR | E1 | 134 | 1442 | |
| 107 | 08-08 | 5 BR | E1 | 134 | 1442 | Sold |
| 107 | 09-08 | 5 BR | E1 | 134 | 1442 | |
| 107 | 10-08 | 5 BR | E1 | 134 | 1442 | |
| 107 | 11-08 | 5 BR | E1 | 134 | 1442 | |
| 107 | 12-08 | 5 BR | E1 | 134 | 1442 | |
| 107 | 13-08 | 5 BR | E1 | 134 | 1442 | |
| 107 | 14-08 | 5 BR | E1 | 134 | 1442 | |
| 107 | 15-08 | 5 BR | E1 | 134 | 1442 | |
| 107 | 16-08 | 5 BR | E1 | 134 | 1442 | |
| 107 | 17-08 | 5 BR | E1 | 134 | 1442 | |
| 107 | 18-08 | 5 BR | E1 | 134 | 1442 | |
| 107 | 19-08 | 5 BR | E1 | 134 | 1442 | |
| 107 | 20-08 | 5 BR | E1 | 134 | 1442 | |
| 107 | 21-08 | 5 BR | E1 | 134 | 1442 | |
| 107 | 22-08 | 5 BR | E1 | 134 | 1442 | |
| 107 | 23-08 | 5 BR | E1 | 134 | 1442 | |
| 107 | 24-08 | 5 BR | E1 | 134 | 1442 | |
| 107 | 25-08 | 5 BR | E1 | 134 | 1442 | |
| 107 | 26-08 | 5 BR | E1 | 134 | 1442 | |
| 107 | 27-08 | 5 BR | E1 | 134 | 1442 | |
| 107 | 28-08 | 5 BR | E1 | 134 | 1442 | |
| 107 | 29-08 | 5 BR | E1 | 134 | 1442 | |
| 107 | 30-08 | 5 BR | E1 | 134 | 1442 | |
| 107 | 31-08 | 5 BR | E1 | 134 | 1442 | |
| 107 | 32-08 | 5 BR | E1 | 134 | 1442 | |
| 107 | 33-08 | 5 BR | E1 | 134 | 1442 | |
| 107 | 34-08 | 5 BR | E1 | 134 | 1442 | |
| 107 | 35-08 | 5 BR | E1 | 134 | 1442 | |
| 107 | 18-09 | 3 BR | C1 | 89 | 958 | |
| 107 | 19-09 | 3 BR | C1 | 89 | 958 | Sold |
| 107 | 20-09 | 3 BR | C1 | 89 | 958 | |
| 107 | 22-09 | 3 BR | C1 | 89 | 958 | |
| 107 | 24-09 | 3 BR | C1 | 89 | 958 | |
| 107 | 25-09 | 3 BR | C1 | 89 | 958 | |
| 107 | 26-09 | 3 BR | C1 | 89 | 958 | |
| 107 | 27-09 | 3 BR | C1 | 89 | 958 | |
| 107 | 28-09 | 3 BR | C1 | 89 | 958 | |
| 107 | 29-09 | 3 BR | C1 | 89 | 958 | |
| 107 | 30-09 | 3 BR | C1 | 89 | 958 | |
| 107 | 31-09 | 3 BR | C1 | 89 | 958 | |
| 107 | 32-09 | 3 BR | C1 | 89 | 958 | |
| 107 | 33-09 | 3 BR | C1 | 89 | 958 | |
| 107 | 34-09 | 3 BR | C1 | 89 | 958 | |
| 107 | 35-09 | 3 BR | C1 | 89 | 958 | |
| 107 | 36-09 | 3 BR | C1(d) | 99 | 1066 | |
| 107 | 24-10 | 2 BR Prem+Study | B3Pa | 71 | 764 | |
| 107 | 30-10 | 2 BR Prem+Study | B3Pa | 71 | 764 | |
| 107 | 31-10 | 2 BR Prem+Study | B3Pa | 71 | 764 | |
| 107 | 32-10 | 2 BR Prem+Study | B3Pa | 71 | 764 | |
| 107 | 33-10 | 2 BR Prem+Study | B3Pa | 71 | 764 | |
| 107 | 34-10 | 2 BR Prem+Study | B3Pa | 71 | 764 | |
| 107 | 16-11 | 2 BR | B1 | 56 | 603 | Sold |
| 107 | 20-11 | 2 BR | B1 | 56 | 603 | Sold |
| 107 | 21-11 | 2 BR | B1 | 56 | 603 | |
| 107 | 23-11 | 2 BR | B1 | 56 | 603 | |
| 107 | 27-11 | 2 BR | B1 | 56 | 603 | |
| 107 | 28-11 | 2 BR | B1 | 56 | 603 | |
| 107 | 30-11 | 2 BR | B1 | 56 | 603 | |
| 107 | 31-11 | 2 BR | B1 | 56 | 603 | |
| 107 | 32-11 | 2 BR | B1 | 56 | 603 | |
| 107 | 33-11 | 2 BR | B1 | 56 | 603 | |
| 107 | 34-11 | 2 BR | B1 | 56 | 603 | |
| 107 | 35-11 | 2 BR | B1 | 56 | 603 | |
| 107 | 36-11 | 2 BR | B1(d) | 64 | 689 | |
| 109 | 17-12 | 3 BR Prem+Flexi | C2P | 99 | 1066 | |
| 109 | 20-12 | 3 BR Prem+Flexi | C2P | 99 | 1066 | Sold |
| 109 | 21-12 | 3 BR Prem+Flexi | C2P | 99 | 1066 | Sold |
| 109 | 22-12 | 3 BR Prem+Flexi | C2P | 99 | 1066 | |
| 109 | 23-12 | 3 BR Prem+Flexi | C2P | 99 | 1066 | |
| 109 | 24-12 | 3 BR Prem+Flexi | C2P | 99 | 1066 | |
| 109 | 25-12 | 3 BR Prem+Flexi | C2P | 99 | 1066 | |
| 109 | 26-12 | 3 BR Prem+Flexi | C2P | 99 | 1066 | |
| 109 | 27-12 | 3 BR Prem+Flexi | C2P | 99 | 1066 | |
| 109 | 28-12 | 3 BR Prem+Flexi | C2P | 99 | 1066 | |
| 109 | 29-12 | 3 BR Prem+Flexi | C2P | 99 | 1066 | |
| 109 | 30-12 | 3 BR Prem+Flexi | C2P | 99 | 1066 | |
| 109 | 31-12 | 3 BR Prem+Flexi | C2P | 99 | 1066 | |
| 109 | 32-12 | 3 BR Prem+Flexi | C2P | 99 | 1066 | |
| 109 | 33-12 | 3 BR Prem+Flexi | C2P | 99 | 1066 | |
| 109 | 34-12 | 3 BR Prem+Flexi | C2P | 99 | 1066 | |
| 109 | 35-12 | 3 BR Prem+Flexi | C2P | 99 | 1066 | |
| 109 | 36-12 | 3 BR Prem+Flexi | C2P(d) | 109 | 1173 | |
| 109 | 02-13 | 1 BR + Study | A2S | 47 | 506 | Sold |
| 109 | 09-13 | 1 BR + Study | A2S | 47 | 506 | Sold |
| 109 | 12-13 | 1 BR + Study | A2S | 47 | 506 | Sold |
| 109 | 15-13 | 1 BR + Study | A2S | 47 | 506 | Sold |
| 109 | 16-13 | 1 BR + Study | A2S | 47 | 506 | |
| 109 | 17-13 | 1 BR + Study | A2S | 47 | 506 | |
| 109 | 18-13 | 1 BR + Study | A2S | 47 | 506 | |
| 109 | 19-13 | 1 BR + Study | A2S | 47 | 506 | |
| 109 | 20-13 | 1 BR + Study | A2S | 47 | 506 | |
| 109 | 21-13 | 1 BR + Study | A2S | 47 | 506 | |
| 109 | 22-13 | 1 BR + Study | A2S | 47 | 506 | |
| 109 | 23-13 | 1 BR + Study | A2S | 47 | 506 | |
| 109 | 24-13 | 1 BR + Study | A2S | 47 | 506 | |
| 109 | 25-13 | 1 BR + Study | A2S | 47 | 506 | |
| 109 | 26-13 | 1 BR + Study | A2S | 47 | 506 | |
| 109 | 27-13 | 1 BR + Study | A2S | 47 | 506 | |
| 109 | 28-13 | 1 BR + Study | A2S | 47 | 506 | |
| 109 | 29-13 | 1 BR + Study | A2S | 47 | 506 | |
| 109 | 30-13 | 1 BR + Study | A2S | 47 | 506 | |
| 109 | 31-13 | 1 BR + Study | A2S | 47 | 506 | |
| 109 | 32-13 | 1 BR + Study | A2S | 47 | 506 | |
| 109 | 33-13 | 1 BR + Study | A2S | 47 | 506 | |
| 109 | 34-13 | 1 BR + Study | A2S | 47 | 506 | |
| 109 | 35-13 | 1 BR + Study | A2S | 47 | 506 | |
| 109 | 36-13 | 1 BR + Study | A2S(d) | 57 | 614 | |
| 109 | 04-14 | 2 BR | B1a | 57 | 614 | |
| 109 | 05-14 | 2 BR | B1a | 57 | 614 | Sold |
| 109 | 06-14 | 2 BR | B1a | 57 | 614 | |
| 109 | 07-14 | 2 BR | B1a | 57 | 614 | |
| 109 | 09-14 | 2 BR | B1a | 57 | 614 | |
| 109 | 10-14 | 2 BR | B1a | 57 | 614 | |
| 109 | 11-14 | 2 BR | B1a | 57 | 614 | |
| 109 | 12-14 | 2 BR | B1a | 57 | 614 | |
| 109 | 13-14 | 2 BR | B1a | 57 | 614 | |
| 109 | 14-14 | 2 BR | B1a | 57 | 614 | |
| 109 | 15-14 | 2 BR | B1a | 57 | 614 | |
| 109 | 16-14 | 2 BR | B1a | 57 | 614 | |
| 109 | 17-14 | 2 BR | B1a | 57 | 614 | |
| 109 | 18-14 | 2 BR | B1a | 57 | 614 | |
| 109 | 19-14 | 2 BR | B1a | 57 | 614 | |
| 109 | 20-14 | 2 BR | B1a | 57 | 614 | |
| 109 | 21-14 | 2 BR | B1a | 57 | 614 | |
| 109 | 22-14 | 2 BR | B1a | 57 | 614 | |
| 109 | 23-14 | 2 BR | B1a | 57 | 614 | |
| 109 | 24-14 | 2 BR | B1a | 57 | 614 | |
| 109 | 25-14 | 2 BR | B1a | 57 | 614 | |
| 109 | 26-14 | 2 BR | B1a | 57 | 614 | |
| 109 | 27-14 | 2 BR | B1a | 57 | 614 | |
| 109 | 28-14 | 2 BR | B1a | 57 | 614 | |
| 109 | 29-14 | 2 BR | B1a | 57 | 614 | |
| 109 | 30-14 | 2 BR | B1a | 57 | 614 | |
| 109 | 31-14 | 2 BR | B1a | 57 | 614 | |
| 109 | 32-14 | 2 BR | B1a | 57 | 614 | |
| 109 | 33-14 | 2 BR | B1a | 57 | 614 | |
| 109 | 34-14 | 2 BR | B1a | 57 | 614 | |
| 109 | 35-14 | 2 BR | B1a | 57 | 614 | |
| 109 | 36-14 | 2 BR | B1a(d) | 64 | 689 | |
| 109 | 06-15 | 2 BR Prem+Study | B3P | 71 | 764 | |
| 109 | 08-15 | 2 BR Prem+Study | B3P | 71 | 764 | Sold |
| 109 | 16-15 | 2 BR Prem+Study | B3P | 71 | 764 | |
| 109 | 17-15 | 2 BR Prem+Study | B3P | 71 | 764 | |
| 109 | 19-15 | 2 BR Prem+Study | B3P | 71 | 764 | Sold |
| 109 | 20-15 | 2 BR Prem+Study | B3P | 71 | 764 | |
| 109 | 21-15 | 2 BR Prem+Study | B3P | 71 | 764 | |
| 109 | 22-15 | 2 BR Prem+Study | B3P | 71 | 764 | |
| 109 | 23-15 | 2 BR Prem+Study | B3P | 71 | 764 | |
| 109 | 24-15 | 2 BR Prem+Study | B3P | 71 | 764 | |
| 109 | 25-15 | 2 BR Prem+Study | B3P | 71 | 764 | |
| 109 | 26-15 | 2 BR Prem+Study | B3P | 71 | 764 | |
| 109 | 27-15 | 2 BR Prem+Study | B3P | 71 | 764 | |
| 109 | 28-15 | 2 BR Prem+Study | B3P | 71 | 764 | Sold |
| 109 | 29-15 | 2 BR Prem+Study | B3P | 71 | 764 | |
| 109 | 30-15 | 2 BR Prem+Study | B3P | 71 | 764 | |
| 109 | 31-15 | 2 BR Prem+Study | B3P | 71 | 764 | |
| 109 | 32-15 | 2 BR Prem+Study | B3P | 71 | 764 | |
| 109 | 33-15 | 2 BR Prem+Study | B3P | 71 | 764 | |
| 109 | 34-15 | 2 BR Prem+Study | B3P | 71 | 764 | |
| 109 | 35-15 | 2 BR Prem+Study | B3P | 71 | 764 | |
| 109 | 36-15 | 2 BR Prem+Study | B3P(d) | 79 | 850 | |
| 109 | 19-16 | 1 BR | A1 | 41 | 441 | |
| 109 | 21-16 | 1 BR | A1 | 41 | 441 | Sold |
| 109 | 22-16 | 1 BR | A1 | 41 | 441 | |
| 109 | 23-16 | 1 BR | A1 | 41 | 441 | |
| 109 | 24-16 | 1 BR | A1 | 41 | 441 | |
| 109 | 25-16 | 1 BR | A1 | 41 | 441 | |
| 109 | 26-16 | 1 BR | A1 | 41 | 441 | |
| 109 | 27-16 | 1 BR | A1 | 41 | 441 | |
| 109 | 28-16 | 1 BR | A1 | 41 | 441 | |
| 109 | 29-16 | 1 BR | A1 | 41 | 441 | |
| 109 | 30-16 | 1 BR | A1 | 41 | 441 | |
| 109 | 31-16 | 1 BR | A1 | 41 | 441 | |
| 109 | 32-16 | 1 BR | A1 | 41 | 441 | |
| 109 | 33-16 | 1 BR | A1 | 41 | 441 | |
| 109 | 34-16 | 1 BR | A1 | 41 | 441 | |
| 109 | 35-16 | 1 BR | A1 | 41 | 441 | |
| 109 | 36-16 | 1 BR | A1(d) | 48 | 517 | |
| 109 | 31-17 | 3 BR Prem+Flexi | C2P | 99 | 1066 | |
| 109 | 32-17 | 3 BR Prem+Flexi | C2P | 99 | 1066 | |
| 109 | 33-17 | 3 BR Prem+Flexi | C2P | 99 | 1066 | |
| 109 | 34-17 | 3 BR Prem+Flexi | C2P | 99 | 1066 | Sold |
| 109 | 04-18 | 4 BR (DK) | D2DK | 118 | 1270 | |
| 109 | 05-18 | 4 BR (DK) | D2DK | 118 | 1270 | Sold |
| 109 | 06-18 | 4 BR (DK) | D2DK | 118 | 1270 | Sold |
| 109 | 07-18 | 4 BR (DK) | D2DK | 118 | 1270 | |
| 109 | 09-18 | 4 BR (DK) | D2DK | 118 | 1270 | |
| 109 | 10-18 | 4 BR (DK) | D2DK | 118 | 1270 | |
| 109 | 11-18 | 4 BR (DK) | D2DK | 118 | 1270 | |
| 109 | 14-18 | 4 BR (DK) | D2DK | 118 | 1270 | Sold |
| 109 | 15-18 | 4 BR (DK) | D2DK | 118 | 1270 | |
| 109 | 16-18 | 4 BR (DK) | D2DK | 118 | 1270 | |
| 109 | 17-18 | 4 BR (DK) | D2DK | 118 | 1270 | |
| 109 | 19-18 | 4 BR (DK) | D2DK | 118 | 1270 | |
| 109 | 20-18 | 4 BR (DK) | D2DK | 118 | 1270 | |
| 109 | 21-18 | 4 BR (DK) | D2DK | 118 | 1270 | |
| 109 | 22-18 | 4 BR (DK) | D2DK | 118 | 1270 | |
| 109 | 23-18 | 4 BR (DK) | D2DK | 118 | 1270 | |
| 109 | 28-18 | 4 BR (DK) | D2DK | 118 | 1270 | |
| 109 | 29-18 | 4 BR (DK) | D2DK | 118 | 1270 | |
| 109 | 30-18 | 4 BR (DK) | D2DK | 118 | 1270 | |
| 109 | 31-18 | 4 BR (DK) | D2DK | 118 | 1270 | |
| 109 | 32-18 | 4 BR (DK) | D2DK | 118 | 1270 | |
| 109 | 33-18 | 4 BR (DK) | D2DK | 118 | 1270 | |
| 109 | 34-18 | 4 BR (DK) | D2DK | 118 | 1270 | |
| 109 | 35-18 | 4 BR (DK) | D2DK | 118 | 1270 | |
| 109 | 36-18 | 4 BR (DK) | D2DK(d) | 128 | 1378 | |
| 109 | 28-19 | 2 BR | B2 | 58 | 624 | |
| 109 | 30-19 | 2 BR | B2 | 58 | 624 | |
| 109 | 31-19 | 2 BR | B2 | 58 | 624 | |
| 109 | 32-19 | 2 BR | B2 | 58 | 624 | |
| 109 | 33-19 | 2 BR | B2 | 58 | 624 | |
| 109 | 34-19 | 2 BR | B2 | 58 | 624 | |
| 109 | 35-19 | 2 BR | B2 | 58 | 624 | |
| 109 | 36-19 | 2 BR | B2(d) | 65 | 700 | |
| 109 | 04-20 | 3 BR (DK) | D3DK | 92 | 990 | Sold |
| 109 | 24-20 | 3 BR (DK) | D3DKa | 92 | 990 | Sold |
| 109 | 25-20 | 3 BR (DK) | D3DKa | 92 | 990 | |
| 109 | 26-20 | 3 BR (DK) | D3DKa | 92 | 990 | |
| 109 | 27-20 | 3 BR (DK) | D3DKa | 92 | 990 | |
| 109 | 30-20 | 3 BR (DK) | D3DK | 92 | 990 | |
| 109 | 31-20 | 3 BR (DK) | D3DK | 92 | 990 | |
| 109 | 32-20 | 3 BR (DK) | D3DK | 92 | 990 | |
| 109 | 33-20 | 3 BR (DK) | D3DK | 92 | 990 | |
| 109 | 34-20 | 3 BR (DK) | D3DK | 92 | 990 | |
| 109 | 35-20 | 3 BR (DK) | D3DK | 92 | 990 | |
| 109 | 36-20 | 3 BR (DK) | D3DK(d) | 102 | 1098 | |
| 109 | 03-21 | 3 BR | C1 | 89 | 958 | |
| 109 | 04-21 | 3 BR | C1 | 89 | 958 | |
| 109 | 05-21 | 3 BR | C1 | 89 | 958 | |
| 109 | 06-21 | 3 BR | C1 | 89 | 958 | |
| 109 | 07-21 | 3 BR | C1 | 89 | 958 | |
| 109 | 08-21 | 3 BR | C1 | 89 | 958 | |
| 109 | 09-21 | 3 BR | C1 | 89 | 958 | |
| 109 | 10-21 | 3 BR | C1 | 89 | 958 | Sold |
| 109 | 11-21 | 3 BR | C1 | 89 | 958 | Sold |
| 109 | 14-21 | 3 BR | C1 | 89 | 958 | Sold |
| 109 | 19-21 | 3 BR | C1 | 89 | 958 | |
| 109 | 24-21 | 3 BR | C1 | 89 | 958 | |
| 109 | 25-21 | 3 BR | C1 | 89 | 958 | |
| 109 | 26-21 | 3 BR | C1 | 89 | 958 | |
| 109 | 27-21 | 3 BR | C1 | 89 | 958 | |
| 109 | 28-21 | 3 BR | C1 | 89 | 958 | |
| 109 | 29-21 | 3 BR | C1 | 89 | 958 | |
| 109 | 30-21 | 3 BR | C1 | 89 | 958 | |
| 109 | 31-21 | 3 BR | C1 | 89 | 958 | |
| 109 | 32-21 | 3 BR | C1 | 89 | 958 | |
| 109 | 33-21 | 3 BR | C1 | 89 | 958 | |
| 109 | 34-21 | 3 BR | C1 | 89 | 958 | |
| 109 | 35-21 | 3 BR | C1 | 89 | 958 | |
| 109 | 36-21 | 3 BR | C1(d) | 99 | 1066 | |
Whistler Grand Floor Plan
1 Bedroom Type A1 41 Sqm / 441 Sqft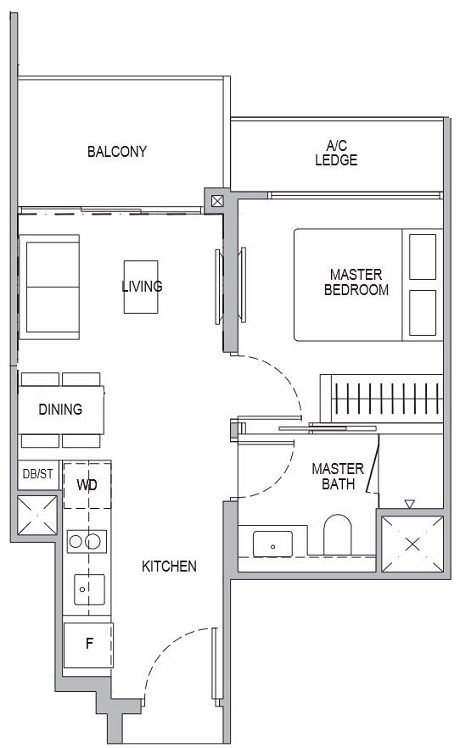 1 + Study Type A2S 47 Sqm / 506 Sqft